Get an INSTANT Offer on Your House
A real estate agent is standing by to assist you through the process.
The safest, fastest, easiest way to sell your house.
Selling your house is an important life event. You should be assisted by a professional who is looking out for your best interest, not the iBuyer. OfferAI provides the platform to assist your agent (and you) in landing on the right price. Your agent will show you how many cash buyers are willing to purchase your house at that amount whenever you are ready to sell, as well as a side by side comparison of the iBuyer option or the MLS listing option.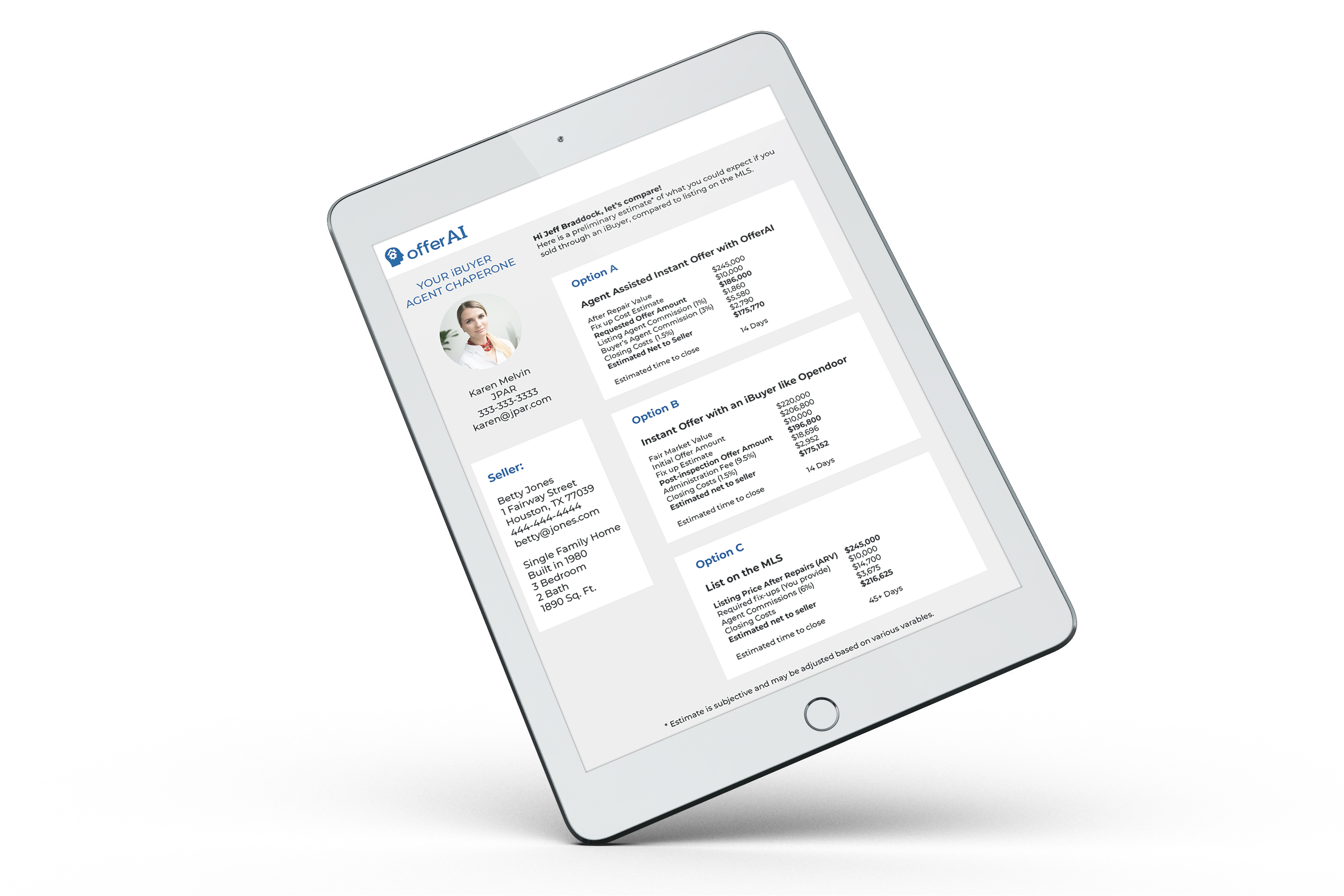 You are represented, and YOU land on your requested offer amount!
Need immediate assistance?
Your agent is standing by to answer any questions you might have, before, during and after you start the process of selling the house.
855-711-1555
Automated offer
First contact is with the bot. Simplified for your immediate needs.
 Easy process
No fix-ups. No showings. The sale closes in as little as 14 days.
Higher offers
We don't flip, we buy and hold, giving you a higher offer.
Frequently Asked Questions
What is OfferAI?
OfferAI is an instant offer marketplace where sellers receive an instant offer on their house and cash buyers can step in to acquire it, all under the watchful eyes of real estate agents who represent both parties.
What sets OfferAI apart?
Agent representation! OfferAI provides the platform for agents to submit instant offer requests on behalf of their seller, which is then availed to the applicable cash buyer(s).
Do I need an agent to get my offer?
Yes. All offers are facilitated by real estate agents who have a fiduciary duty to look out for your best interest.
Is it more or less costly than say, Opendoor?
Usually less. Although investors need to turn a profit, their margin still leaves the net to seller well within the range of Opendoor. And although agents are involved, they typically adjust their commission to accommodate, leaving equal or more net to seller proceeds from the purchase of your house.
If my house is listed on the MLS, can I get an instant offer?
No. Your house must not have been listed on the MLS for at least one year. The cash buyers are not interested in MLS listed properties.
What if I want to list my home instead?
Your agent will present you with options and you both can choose the best route. If listing on the MLS is the better option for you, your agent can handle that for you as well. OfferAI will not be involved in that process.
How much does OfferAI charge for this platform?
$0. OfferAI is free to post properties and free to cash buyers to purchase them. OfferAI makes money from upselling agents on additional services.
How quickly do I need to move out?
You can set the closing date for whenever you want, which is all handled by your agent.
When a cash buyer takes the offer request, what then?
The cash buyer's agent will communicate directly with your agent to submit a purchase and sale agreement to you. All of the actual negotiation and closing process is handled by traditional means, just as if it were an MLS sale, only much quicker.
This is all free?! How does OfferAI make money?
OfferAI does not charge sellers, agents or buyers to utilize our platform. Think of us like a Craiglist for off-market properties. We make money through premium benefits for agents, who either pay a subscription fee and/or other a la carte additional features and benefits.
My offer request was accepted and we closed fast. OfferAI was great to work with! I recommend them to any homeowner considering selling.
DAVID STROUP, SELLER
Finally agents can provide sellers with options that include the instant offer option. And my cash buyers can see deal alerts, instantly! 
CANDIE HERNANDEZ, AGENT
Our agents can capitalize on their buyer contacts and listing agents can engage homeowners who wish to sell quickly, with the iBuyer option.
JP OF JP & ASSOCIATES REALTORS®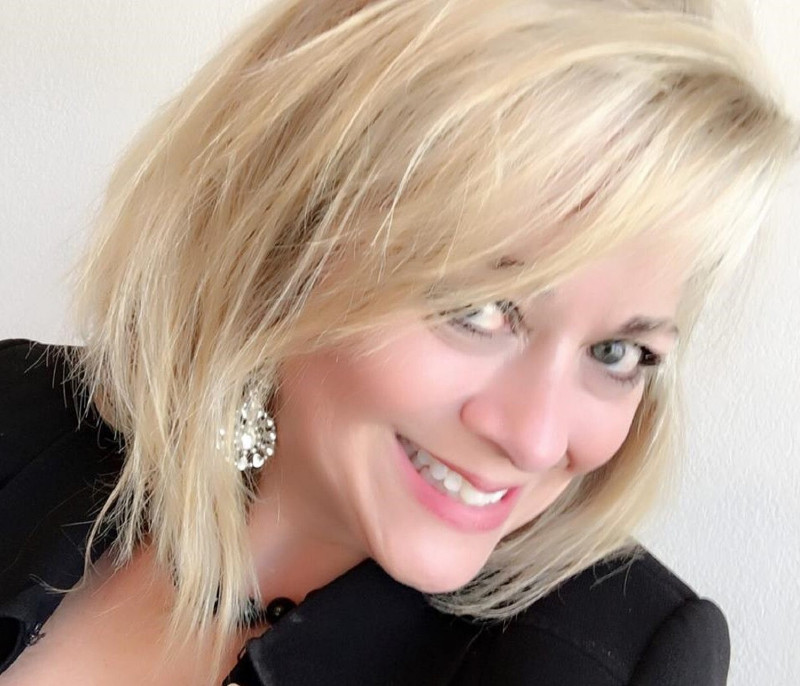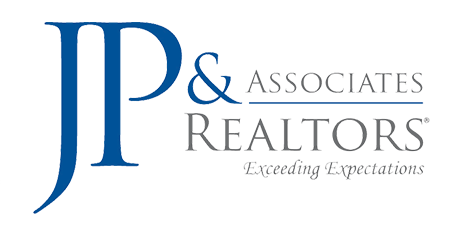 About Candie Hernandez
Although not originally from Texas, it has become my home after 30+ years of living primarily in the DFW area. After working several years in retail, I fell into the real estate industry while I was going to school for interior design. I spent most of my 25+ years in real estate in sales and property management and am known as the problem solver and the "go to" person for the toughest challenges. I am still considering writing a book with my unbelievable stories over the years. You will find that I have mastered the skills of multi tasking, handling tough customer issues, proactive resolutions to difficult crisis situations, excellent communication and customer service skills. I'm known for my eternal optimism, creativity, and bubbly personality. I'm genuine, direct, and take the time to find out your priorities and concerns are. I'm a tough negotiator and anticipate issues before they happen. I work well under pressure and make sure my clients have a hassle free experience if at all possible. When I am not actively assisting my clients I am working on commissioned pieces or new artwork for my upcoming gallery showing. I've been a freelance artist for over 30 years. I'm also a musician and love to spend time actively outdoors. Maybe not as much a tomboy these days nor do I run any more marathons but you might see me on a bike or in a canoe. I have found that my clients become lifetime connections because I have successfully assisted them through an important financial transaction where we have developed trust, respect, and shared very personal conversations along the way. It is always a huge compliment to get referrals and repeat business from past clients. Thank you in advance for giving me the opportunity to assist you.