Get an Instant Offer on Your House
A real estate agent is standing by to assist you through the process.
The safest, fastest, easiest way to sell your house.
Selling your house is an important life event. You should be assisted by a professional who is looking out for your best interest, not the iBuyer. OfferAI provides the platform to assist your agent (and you) in landing on the right price. Your agent will show you how many cash buyers are willing to purchase your house at that amount whenever you are ready to sell, as well as a side by side comparison of the iBuyer option or the MLS listing option.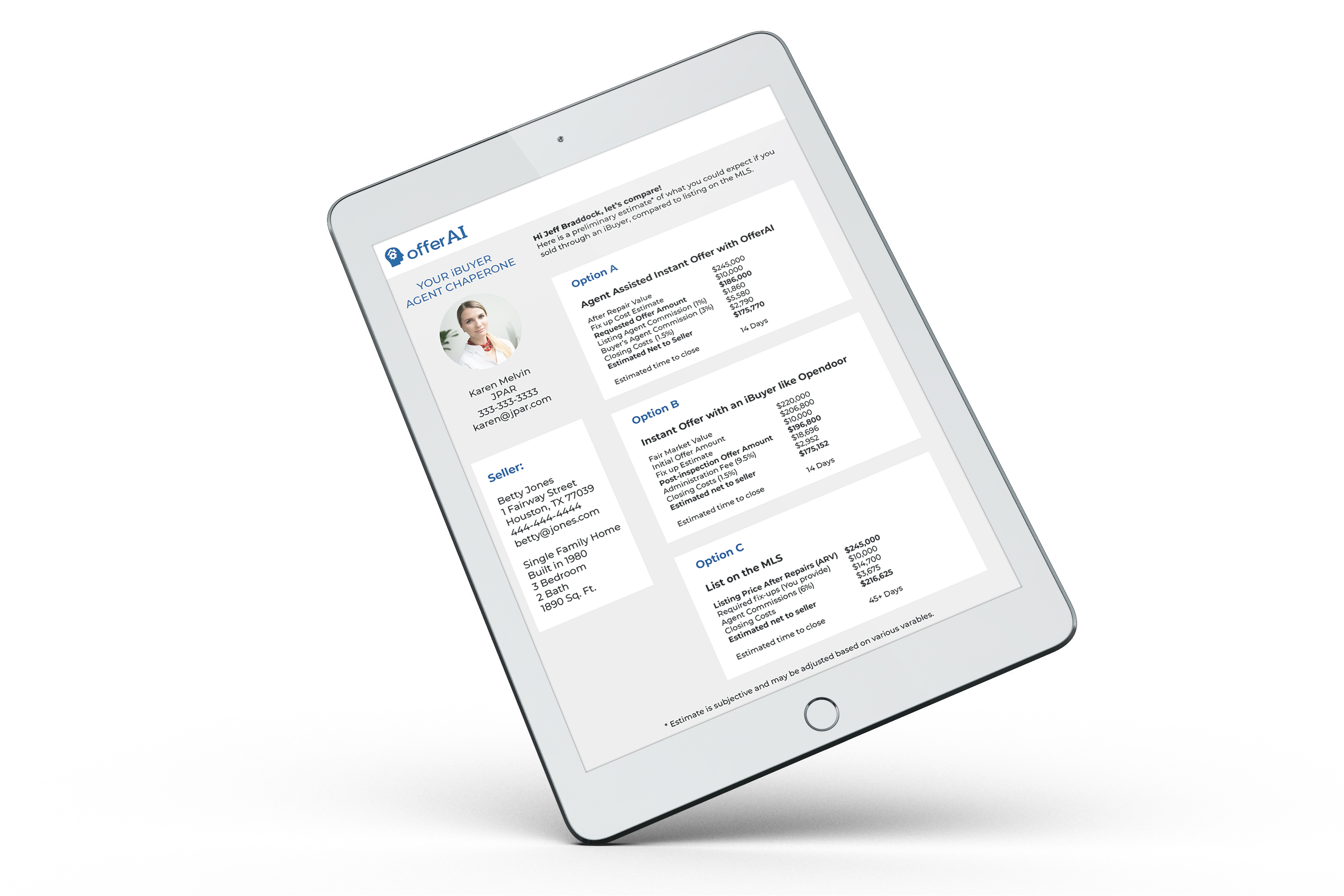 Would you prefer to speak with someone first?
Immediate Assistance
We are standing by to answer any questions you might have, before, during and after you start the process of selling the house.
Make contact
A representative assists you with your offer.
 Easy process
No fix-ups. No showings. No open houses.
Higher offers
As much as you would net on an MLS sale.
Frequently Asked Questions
What is OfferAI?
OfferAI is an instant offer marketplace where sellers receive an instant offer on their house and cash buyers can step in to acquire it, all under the watchful eyes of real estate agents who represent both parties.
What sets OfferAI apart?
Agent representation! OfferAI provides the platform for agents to submit instant offer requests on behalf of their seller, which is then availed to the applicable cash buyer(s).
Do I need an agent to get my offer?
Yes. All offers are facilitated by real estate agents who have a fiduciary duty to look out for your best interest.
Is it more or less costly than going directly to a big iBuyer?
The cost should be virtually the same. Since OfferAI does not receive any proceeds from the sale, big iBuyers can participate in our platform too. And although investors need to turn a profit, their margin still leaves the net to seller well within the range of big iBuyers. The agents' participation may affect the seller net proceeds, but the value of your agent's participation is far greater than going it alone.
If my house is listed on the MLS, can I get an instant offer?
No. Your house must not have been listed on the MLS for at least one year. The cash buyers are not interested in MLS listed properties.
What if I want to list my home instead?
Your agent will present you with options and you both can choose the best route. If listing on the MLS is the better option for you, your agent can handle that for you as well. OfferAI will not be involved in that process.
How much does OfferAI charge for this platform?
$0. OfferAI is free to post properties and free to cash buyers to purchase them. OfferAI makes money from up-selling agents on additional services, not from transaction fees of any kind.
How quickly do I need to move out?
You can set the closing date for whenever you want, which is all handled by your agent.
When a cash buyer or big iBuyer takes the offer request, what then?
The buyer's agent will communicate directly with your agent to submit a purchase and sale agreement to you. All of the actual negotiation and closing process is handled by traditional means, just as if it were an MLS sale, only much quicker.
This is all free?! How does OfferAI make money?
OfferAI does not charge sellers, agents or buyers to utilize our platform. Think of us like a Craiglist for off-market properties. We make money through premium benefits for agents, who either pay a subscription fee and/or other a la carte additional features and benefits.
My offer request was accepted and we closed fast. OfferAI was great to work with! I recommend them to any homeowner considering selling.
DAVID STROUP, SELLER
Finally agents can provide sellers with options that include the instant offer option. And my cash buyers can see deal alerts, instantly! 
CANDIE HERNANDEZ, AGENT
Our agents can capitalize on their buyer contacts and listing agents can engage homeowners who wish to sell quickly, with the iBuyer option.
JP OF JP & ASSOCIATES REALTORS®
Oops. Please check the URL you entered because there is no agent in the system with that exact URL. Make sure all characters of the URL are accurate.