Looking for off-market deals?
Let us know what you want and we will send those non-MLS deals to you.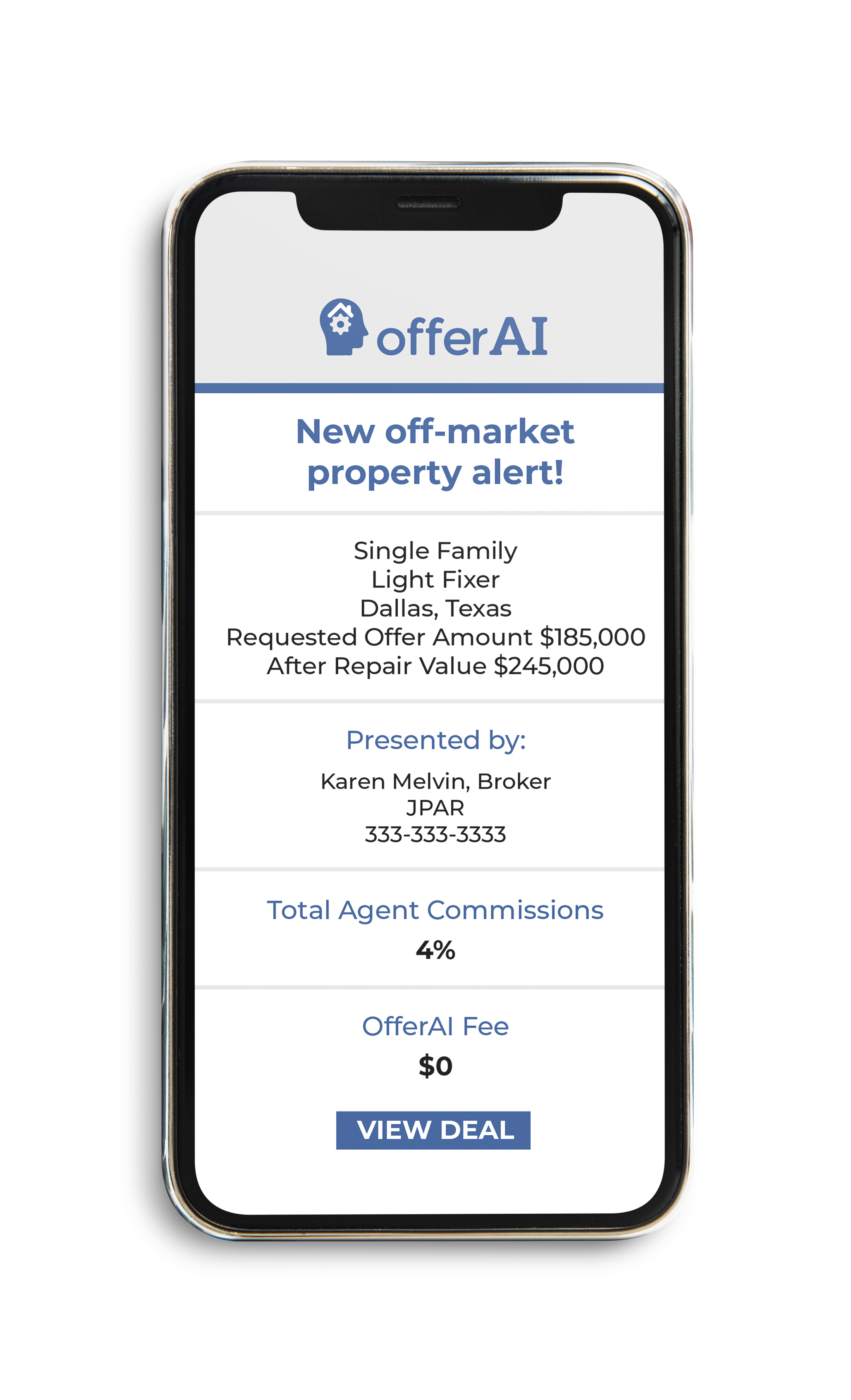 How It Works…
1. Register with OfferAI
As a cash buyer/investor, include your purchasing preferences to receive applicable deal alerts.
2. Include referring agent
Every seller and investor must be represented by an agent. Include the referring agent or one will be assigned to you.
3. Receive alerts
When an applicable deal hits the system, you will be notified so you can make an offer. All closings happen in the traditional way, outside of the OfferAI system.
Need assistance?
Feel free to reach out to our support team. We're happy to help! 855-711-1555
Frequently Asked Questions
Do I have to use a buyer's agent?
Yes. All deals are viewed via an agent's off-market property presentation.
What do I do if I want to learn more about the deal?
When you express interest, your agent will contact the listing agent through traditional means for more information and/or showing availability.
I received a property profile flyer from an agent, is that my agent?
For the purposes of this particular property, that is the agent you will be working with.
If I'm receiving alerts from more than one agent, what do I do?
If you are receiving multiple alerts for the same property, that means that more than one agent entered you into our system. You can simply opt out of as many as you like. You'll continue to receive alerts from the agent(s) who remain.
What if an agent that I know entered my contact info to receive alerts?
Great! That agent's contact info will be on the deal alerts. The system will recognize you and associate you with that agent automatically.
Can I go to the seller directly?
No. The listing agent has a listing agreement with the seller, which includes a buyer's agent. It would not make the price any lower by going directly to the seller or the listing agent.
Why do I need an agent if I'm experienced?
The OfferAI model is agent-centric, providing a platform for agents to thrive, thereby availing more off-market properties to you. Also, in some states it is illegal to approach sellers in foreclosure, unless you are an agent. So in those circumstances, the agents are there to look out for their clients and abide by state laws (See: RCW 61.34).
How does the whole thing work?
Agents frequently encounter sellers who wish to get a quick and easy, hassle free sale, without listing the property on the MLS. If their brokerage is using the OfferAI platform, they can post it to the cash buyers in the system that receive a 'Deal Alert' if the property meets their criteria. Those cash buyers were invited into the system by agents through the same platform, so they can secure themselves as the buyer's agent for the cash buyers.