FREE iBUYER MARKETPLACE
FREE TO SUBMIT – NO TRANSACTION FEE – MULTIPLE iBUYERS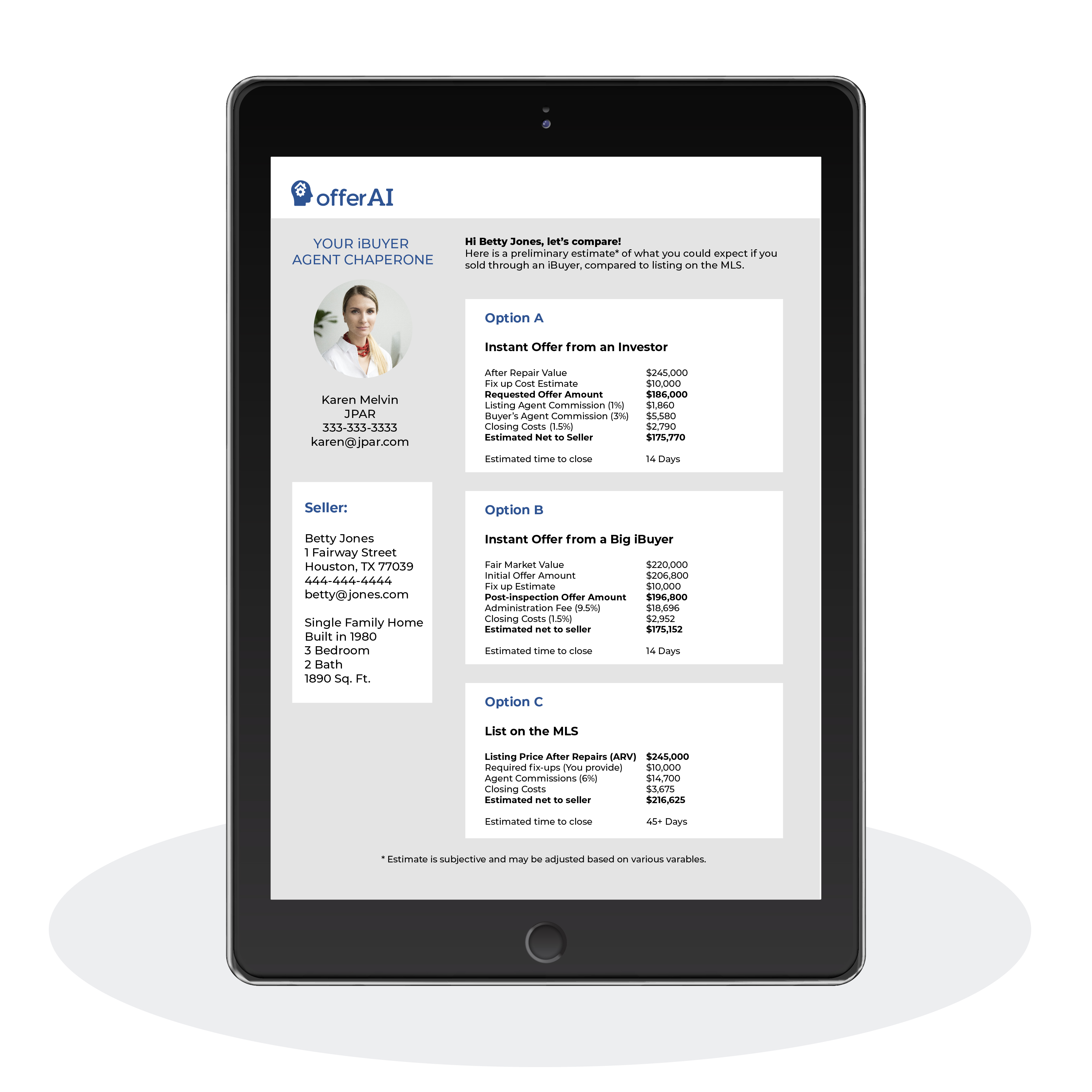 Your Clients – Your Options
Selling on the MLS has long been the preferred means by which you get the most for your client. In some cases however, your seller might need to move quicker and they are willing to forego some of the proceeds for a quick sale. But instead of sending them to one of the institutional iBuyers, why not hold their hand through the process and request an offer from an independent cash buyer/investor? Your client will typically net MORE in the end, by keeping you as their agent throughout.
Option A
Instant Offer from an Investor
After Repair Value
$245,000
Fix up Cost Estimate
$10,000
Requested Offer Amount
$186,000
Listing Agent Commission (1%)
$1,860
Buyer's Agent Commission (3%)
$5,580
Closing Costs (1.5%)
$2,790
Estimated Net to Seller
$175,770
Estimated time to close
14 Days
Option B
Instant Offer from a Big iBuyer
| | |
| --- | --- |
| Fair Market Value | $220,000 |
| Initial Offer Amount | $206,800 |
| Fix up Estimate | $10,000 |
| Post-inspection Offer Amount | $196,800 |
| Administration Fee (9.5%) | $18,696 |
| Closing Costs (1.5%) | $2,952 |
| Estimated net to seller | $175,152 |
| Estimated time to close | 14 Days |
Option C
List on the MLS
| | |
| --- | --- |
| Listing Price After Repairs (ARV) | $245,000 |
| Required fix-ups (You provide) | $10,000 |
| Agent Commissions (6%) | $14,700 |
| Closing Costs | $3,675 |
| Estimated net to seller | $216,625 |
| Estimated time to close | 45+ Days |
FREE to request offers for sellers – FREE to share with buyers
iBuyer Chicago provides access to a free platform for our agents to compare options with their clients. If it's a fit for your seller, you can submit an off-market, instant offer request to cash buyer/investors. Those investors are presented these 'deals' as agents with cash buyer contacts, showcase your client's property to them. 
The OfferAI platform we use receives NO proceeds from the transaction.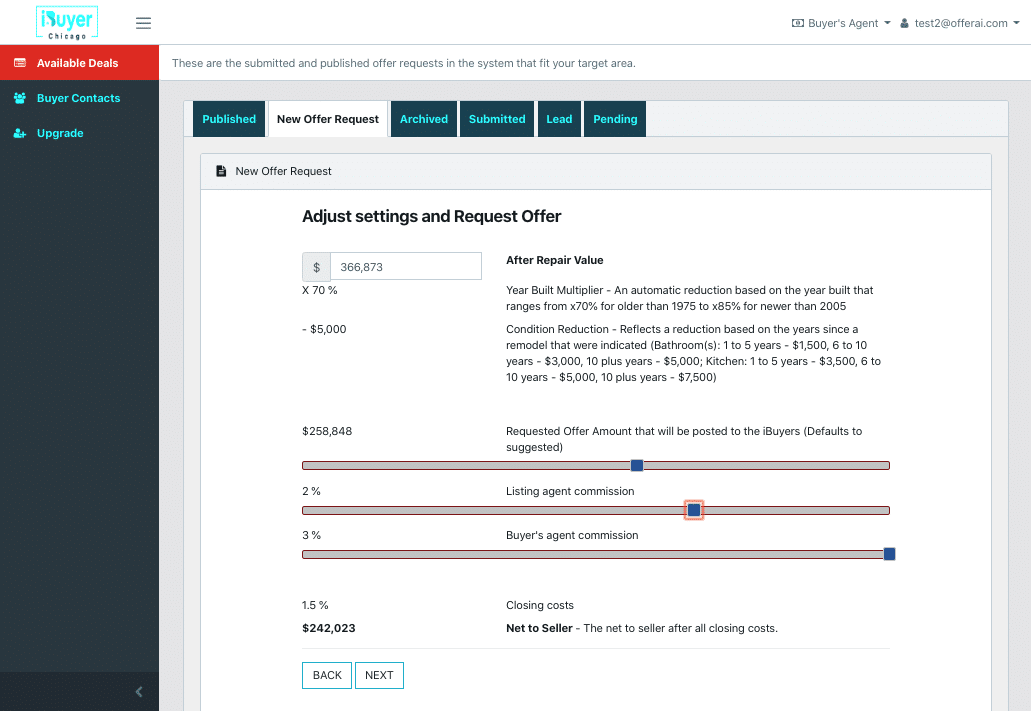 Adjust the numbers
During the property submission process, you can work with your client to submit an offer request that has a high likelihood of being attractive to investors. You can adjust the commissions, both yours and the buyer's agent commission if necessary to increase the net to seller amount. Keep it attractive however, so buyer's agents are motivated to share broadly with their investors.
Ready to take control?
There is NO CHARGE to utilize the platform.
Need assistance?
Feel free to reach out to our support team. We're happy to help! 312-576-1234
Frequently Asked Questions
Does OfferAI buy houses?
No. We provide the platform for agents to post properties for instant offer requests, and the tools for other agents to present them to their cash buyers/investors.
Can I request an offer for my client who's home is listed on the MLS?
No. If your clients property has been listed on the MLS in the past year, you cannot submit it for an offer request on OfferAI. Most investors are simply are not interested.
What happens if there is an investor interested?
If you have packaged the deal where it is attractive to an investor(s), an investor will express interest via text and/or email. The buyer's agent will be automatically notified. The buyer's agent can then contact you, the listing agent with questions or an offer.
How do I get to be the buyer's agent for my buyer contacts?
If you have cash buyer contacts, you can go to the "Buyer's Agent" perspective on your dashboard and invite your buyer into the system. When they register, you will be solidified as the buyer's agent for that buyer, ongoing. You will receive text and/or email notifications when one of your buyers is interested.
If an investor makes an offer, does my client have to accept it?
No. You and your client are always in the driver's seat.
How does the closing work?
Once the communication between the listing agent and the buyer's agent begins, OfferAI is out of the picture. You handle the closings the same way you would in a typical closing.
Can my client choose to close when they want?
Yes. As with any typical on-market listing, this off-market listing will be handled the same way. Your client can close however they want.
What are the fees involved?
Of course, it's FREE to request an offer. There is NO CHARGE to use the platform. We don't collect anything on the transaction. That leaves more room for the listing agent and buyer's agent commissions and for sellers to get the most out of the quick sale.
How does the whole thing work?